Cross Keys K9 Inc. was started in 2010 when Jacqueline Levy and Steve LaFlamme recognized the need for dogs carefully bred for health, workability, and longevity in mind. Jacqueline had retired from her professional career in broadcast media to focus solely on the company. Steve had been breeding dogs and horses for decades and sidelined his career in commercial lending to focus on the dogs as well, utilizing his entrepreneurial skills to help launch and run the company. The company began its 15-year breeding program in 2012 and incorporated in 2013. Cross Keys K9 produced over twenty litters with very nice results in both working and companion dogs.
In 2017, Steve was diagnosed with colon cancer, followed by Jacqueline getting diagnosed with breast cancer. This double whammy kicked off a grueling cycle of surgeries, tests, radiation, and medicine, and put an enormous strain on the breeding program, which ground to a halt. However, all the dogs at Cross Keys K9 were a tremendous source of love, comfort, and support during this very difficult time. Every dog at Cross Keys has its own job to do, whether it is securing the perimeter, socializing, and teaching pack manners to puppies, bedwarmers, barnstormer protection dogs, or a horse whisperer. Our dogs are the reason for everything we do here and for the people whose lives they complement and enhance. When that time was ours, they rose to the occasion as they always have, and even exceeded our expectations. Today, Cross Keys K9 still works with hundreds of clients to ensure their dog placements are as successful and productive as they can possibly be; including private parties, organizations that utilize dogs in a number of working capacities such as search and rescue, law enforcement, and as service dogs for people who truly need them to live and have a good quality of life.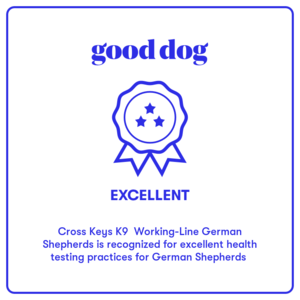 © 2012 - 2023 Cross Keys K9, Inc. All rights reserved.